SAP Business Intelligence (BI) is a reporting and analytics tool aimed at business users. It consists of a number of reporting applications that allow users to discover data, perform analysis to derive insights and create graphic reports to visualise the insights.
By making reporting and analysis simple for business users they can create reports and perform processes like predictive analytics without needing the input of data analysts.
SAP BI is the evolution od "DataWarehousing" and includes:
SAP BW (SAP Business Warehouse).
SAP KM (SAP Knowledge Management).
SAP SEM (SAP Strategic Enterprise Management).
In the integration of data exploration model, data from various sources are incorporated: SP databases, external databases, integrated applications, flat documents, WEB – XML integration.
The end user transforms information into knowledge and decision making in business areas and company models.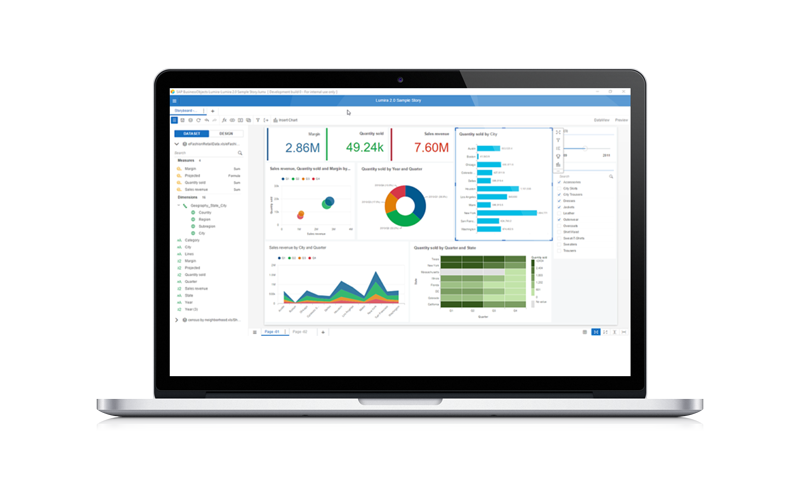 SAP BI comprises of a number of reporting and analysis applications that all have their own identity, purpose and function. These applications include:
A web browser tool that allows users to perform analysis, produce formatted reports and distribute the reports on SAP or export them to PDF or Excel.
Crystal Reports. • Data analytics and reporting tool aimed at small and medium-size businesses. The reports can be accessed online or offline, from applications, portals or mobile devices.
SAP Business Objects Dashboards. A data visualization tool.
Query as a Web Service (QaaWS). A tool that allows users to create and publish web services that can be consumed in Crystal Reports and SAP Business Objects Dashboards.
SP Business Objects Explorer. Herramienta autoservicio de exploración de datos que permite a los usuarios indagar en grandes volúmenes de datos.
SAP Lumira. Self-service data exploration tool that enables users to search through large volumes of data.
SAP BI can also integrate certain functions with SAP S/4 HANA.